Consytnce Marie Falconcrest
Earlessa of Falconcrest



Class:

Confessor

HP:

40

Dice:

1D9
 Constance Marie Falconcrest, Earlessa of Falconcrest
is the reigning noble within the
Earldom of Falconcrest
.  She has been remarked upon as being a jealous and petty woman, who greatly dislikes those that have any skill she cannot replicate.
Despite her shortcomings, her bloodline has inspired loyalty in her followers.  She appears to be quite fond of Sir Garyth Westmoreland, though the extent of their relationship is not certain.  
She holds a deep aversion for the House of Albrecht and has declared Helmuth Albrecht to be a villain.  After having her Talonguard fight the Crown's Champions, she was convinced to assist in the Containment of the Forsaken. 
After considering the betrayal of her allies, she was assassinated by a team led by Clegane Marsh.  Her successor, Earl Wilton Westmoreland, was much more open to the needs of Blackmarsh.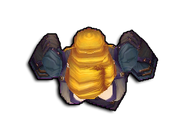 Ad blocker interference detected!
Wikia is a free-to-use site that makes money from advertising. We have a modified experience for viewers using ad blockers

Wikia is not accessible if you've made further modifications. Remove the custom ad blocker rule(s) and the page will load as expected.